About HoppingBalls.io
HoppingBalls.io is an io-style game where players control a 3D ball and compete with other opponents in a race through an endless obstacle course. The goal is to bounce your ball as quickly as possible while avoiding spikes and other dangerous obstacles.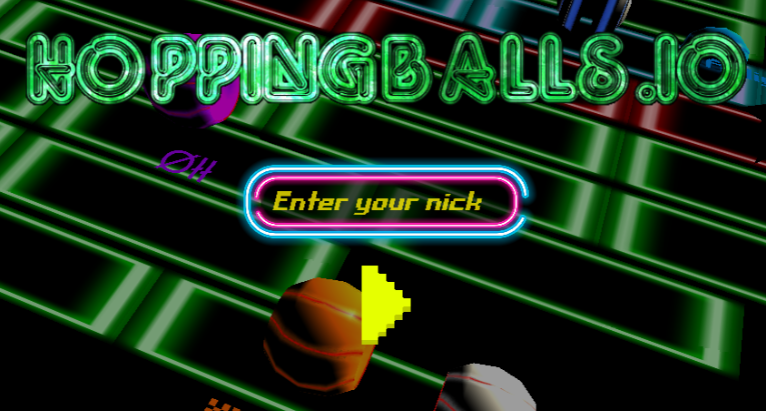 How to play HoppingBalls.io
Below is a general guide on how to play "HoppingBalls.io" and potential controls for the game:
Controls:
The controls for "HoppingBalls.io" are typically designed for keyboard and mouse or touchscreen devices, depending on the platform you are playing on. Here are the common controls you might find in the game:
Keyboard and Mouse Controls (Typical for PC):
W, A, S, D or Arrow Keys: Use these keys to control the movement of your 3D ball. Pressing a direction key makes your ball hop or bounce in that direction.

Mouse: Move your mouse to adjust the direction of your ball. Your ball follows the cursor's position on the screen.

Left Mouse Button: Use the left mouse button to trigger a hop or bounce. Clicking while moving the mouse controls the direction of the hop.
Touchscreen Controls (Typical for Mobile Devices):
Touch and Swipe: Touch and swipe your finger on the screen to control the movement and direction of your 3D ball.

Tap: Tap on the screen to make your ball hop or bounce.
How to Play:
The gameplay in "HoppingBalls.io" is typically simple and straightforward, and it may involve the following elements:
Starting: Join a game lobby or room with other players, and the race begins when all players are ready.

Race and Hops: Your 3D ball automatically hops forward. Control the direction and speed of your ball by using the controls mentioned above. The objective is to move as fast as possible through the obstacle course.

Obstacle Avoidance: The racecourse is filled with various obstacles, including spikes and hazards. You must carefully navigate and time your hops to avoid these obstacles.

Competing with Others: You're not alone on the course. Compete with other players in real time to see who can reach the farthest or complete the race first.

Scoring: Depending on the game's rules, you may earn points for successfully navigating obstacles or reaching checkpoints.

Leaderboard: "HoppingBalls.io" often features a leaderboard that displays the rankings of players based on their performance in the current game session.

Endless Gameplay: The game may continue indefinitely until you make a mistake or are eliminated. Some games have checkpoints that players aim to reach for a sense of progression.

Achievements and Rewards: Depending on the game's design, you might unlock achievements or receive rewards for reaching specific milestones.

Persistence: Players can typically continue playing in new rounds after being eliminated or making a mistake, allowing for multiple attempts to improve your performance.
"HoppingBalls.io" offers a fast-paced and competitive gaming experience where you must navigate obstacles and race against other players in real time. The goal is to achieve the highest score and secure a top position on the leaderboard. It's a casual and engaging game suitable for quick gameplay sessions and friendly competition with other players.